︎ Twin organ earrings

Twin organ is a bold and expressive piece, hand sculpted with 3mm wire in sterling silver. The organic shapes gives it a natural look to be worn by all gender and vessels.

All jewellery is designed and handcrafted in Oslo. By only using the finest materials and gemstones, I create independent jewellery for all gender and vessels. As a result of the crafting process, you may find some small differences in shape and size. Please allow two to four weeks for production and shipment.

Earrings in pair
Material: 925 Sterling silver
Dimensions: 1,5 x 5 cm



︎

Organ earrings

Organ earrings is a more discrete version of the twin organ. This piece is perfect for everyday events and looks good in combination with other earrings.


All jewellery is designed and handcrafted in Oslo. By only using the finest materials and gemstones, I create independent jewellery for all gender and vessels. As a result of the crafting process, you may find some small differences in shape and size. Please allow two to four weeks for production and shipment.

Earrings in pair
Material: 925 Sterling silver
Dimension: 1,5 x 1,5 cm



︎

Drop earrings



These classics are now available in two sizes, petite and grande. handcrafted in 3mm silver sheet, made by using hammer and hand they get this drop-shell shape. An everyday classic and still a statement for special events. price by pair.

All jewellery is designed and handcrafted in Oslo. By only using the finest materials and gemstones, I create independent jewellery for all gender and vessels. As a result of the crafting process, you may find some small differences in shape and size. Please allow two to four weeks for production and shipment.

Drop Grande
Material: 925 Sterling silver
Dimensions: 2,5 x 1 cm

Drop Petite
Material: 925 Sterling silver
Dimensions: 1,7 x 0,7 cm




︎

Everyday bold hoops



Everyday bold hoops comes in two different sizes (s) & (m), shaped in an organic circle. These pieces are perfect to wear every day and you can combine them with other pieces from the collections. Price by pair and singles.


All jewellery is designed and handcrafted in Oslo. By only using the finest materials and gemstones, we create independent jewellery for all gender and vessels. As a result of the crafting process, you may find some small differences in shape and size. Please allow two to four weeks for production and shipment.

Earrings S in pair

Material: 925 Sterling silver

Dimensions: 0,3 x 1,5 or 2 cm

Earrings M in pair

Material: 925 Sterling silver

Dimensions: 0,3 x 2 cm

︎ Hesse earrings


Hesse earrings is made in 2mm silver wire and a silver ball. This playful piece is also a elegant choice for a everyday statement.

All jewellery is designed and handcrafted in Oslo. By only using the finest materials and gemstones, we create independent jewellery for all gender and vessels. As a result of the crafting process, you may find some small differences in shape and size. Please allow two to four weeks for production and shipment.

Hesse earrings
Material: 925 Sterling silver
Dimensions: 10 x 0,2 cm (ball 10mm diameter)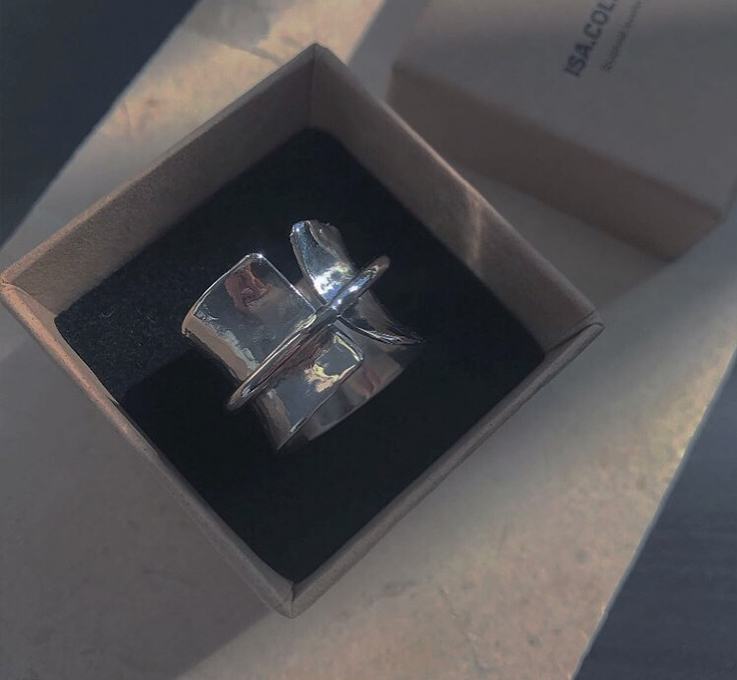 ︎

ISA Ring



Isa ring is a bold piece sculpted by hand in sterling silver. The silver ring that lies attached is movable and gives it a organic and playful expression. A statement piece to be worn in any occasion.

All jewellery is designed and handcrafted in Oslo. By only using the finest materials and gemstones, we create independent jewellery for all gender and vessels. As a result of the crafting process, you may find some small differences in shape and size. Please allow two to four weeks for production and shipment.

ISA Ring

Material: 925 Sterling silver

Dimensions: 1 x 2 cm
︎

Everyday classic rings
Everyday classic rings is the perfect combination of a everyday ring set. The shape is organic and sculpted by hand in sterling silver. They are perfect to stack and in combination with other, and comes in two designs, small (5mm) & medium (7mm).

All jewellery is designed and handcrafted in Oslo. By only using the finest materials and gemstones, we create independent jewellery for all gender and vessels. As a result of the crafting process, you may find some small differences in shape and size. Please allow two to four weeks for production and shipment.

Everyday classic ring S
Material: 925 Sterling silver
Dimensions: 0,1 x 0,5 cm



Everyday classic ring M
Material: 925 Sterling silver
Dimensions: 0,1 x 0,7cm




︎

Every day bold rings



Every day bold rings comes in two designs, small (3mm) and largde (6mm). Made in oval silver wire. Both are perect to stack or combine with other rings for your personal collection as well as ours. Price is for one ring.

All jewellery is designed and handcrafted in Oslo. By only using the finest materials and gemstones, we create independent jewellery for all gender and vessels. As a result of the crafting process, you may find some small differences in shape and size. Please allow two to four weeks for production and shipment.

Everyday Bold ring S

Material: 925 Sterling silver

Dimensions: 2 x 4 mm
︎

Snake rings



Snake rings are two separate rings you can stack or as a pendant on your chain. A true everyday bold ring. made in 3 mm silver wire and shaped by an hammer and hand. Price by pair.

All jewellery is designed and handcrafted in Oslo. By only using the finest materials and gemstones, we create independent jewellery for all gender and vessels. As a result of the crafting process, you may find some small differences in shape and size. Please allow two to four weeks for production and shipment.

Snake Rings

Material: 925 Sterling silver

Dimensions: 2 x 2 mm
︎

Ora bracelet



Ora bracelet is a true statement piece. Crafted in bold 3mm silver wire and an isa lock at the end. This bracelet is made to be worn as a everyday sculptural piece as well as special events.

All jewellery is designed and handcrafted in Oslo. By only using the finest materials and gemstones, we create independent jewellery for all gender and vessels. As a result of the crafting process, you may find some small differences in shape and size. Please allow two to four weeks for production and shipment.

Ora bracelet

Material: 925 Sterling silver

Dimensions: 0,3 x 2 cm / Custom lenght
︎

Panzer & snake chain



Panzer & snake chain is two separate chains, but look good together. Panzer is 55cm and snake 60cm. These pieces is made to be worn to be worn every day. Can be customize for other lengths.

All jewellery is designed and handcrafted in Oslo. By only using the finest materials and gemstones, we create independent jewellery for all gender and vessels. As a result of the crafting process, you may find some small differences in shape and size. Please allow two to four weeks for production and shipment.

Chain 150 euro (each)

Material: 925 Sterling silver

Dimensions: 0,3 x 55 cm